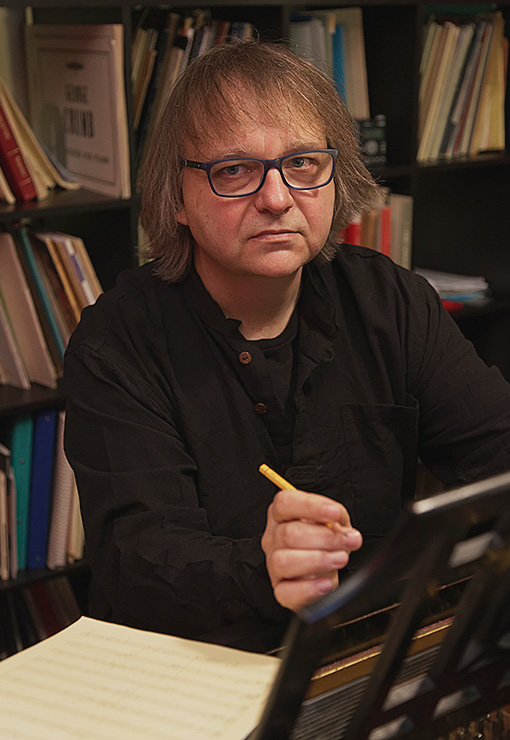 Olivier Lattion, pianist and composer. Fribourg, 2018. Editions Rochebrune. olivierlattion.ch photo ©Romano P. Riedo |
fotopunkt.ch
Olivier Lattion, from interpretation to composition
Olivier Lattion describes his artistic life as an inner search for a balance between 'serious' music, rock, jazz and improvisation. Born in 1964 in Fribourg, Switzerland, into a family of musicians, he started playing the piano at the age of four, initially playing by ear all the music he heard being played around him and in doing so finding a way that would subsequently lead him to his current focus on improvisation and composition. He studied at the Fribourg Conservatory of Music, graduating at the age of 18 with a masters degree in piano education and performance, the youngest graduate in the history of the institution. By the age of 22, he had completed the Artist's Diploma of the Hartt School of Music of the University of Hartford, Connecticut, one of the most prestigious music academies in the US, where he also studied orchestral conducting, chamber music and musicology. He completed his training with a soloist diploma from the Music Academy of Bern.
He studied piano under renowned teachers including Karl Engel, Luiz de Moura Castro, Tamas Vasary, Paul Badura Skoda and Alexander Jenner, and chamber music with the Emerson Quartet and Bruno Canino.
He has performed in public since the age of 13, playing from a repertoire of some 200 works for solo piano, piano and orchestra, and chamber music ensemble in concerts and recitals. Several of his performances have been recorded by the three Swiss national radio stations and Radiotelevisione svizzera (the Italian-language Swiss public broadcasting corporation), as well as Radio-France, Canal 3 Inravisión Colombia and various audiovisual media in the more than 20 countries where he has performed.
In the early years of his career he naturally felt the pressure to enter competitions, to which he concurred with only measured personal enthusiasm, nevertheless winning most of those in which he competed. These include: the soloist competition of the Bern Symphony Orchestra in 1986, for which he prepared Liszt's Dance of the Dead in just three weeks; the Swiss Music Competition for Young People in 1982, again taking first prize; and the Prix du Zürcher Forum in 1987 and 1988. In the three years from 1984 to 1986, he also won the most important artistic scholarship in Switzerland of the time, the Pour-cent culturel Migros.
Improvisation:creativity rediscovered
Musical interpretation never completely satisfied Olivier Lattion, who has always been at odds with the rigid and conservative codes of the classical music establishment. Having put to one side improvisation and his first attempts at composition in his early years to focus on his studies, he rediscovered much later his enthusiasm for musical improvisation, rock music and electronic instruments, which then began to take up a large place in his musical activities. He performed regularly at clubs such as La Spirale in Fribourg, the Dampfzentrale in Bern, the Jazzclub Konstanz (Germany) and even the Grande Salle of the Lausanne Opera House! He is one of the few musicians to improvise using the combination of piano and Tibetan bowls.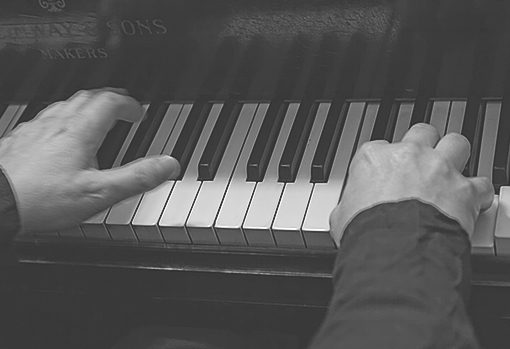 Olivier Lattion, pianist and composer. Fribourg, 2018. Editions Rochebrune. olivierlattion.ch photo ©Romano P. Riedo |
fotopunkt.ch
Composition: a late development
For a musician with a love for all kinds of musical expression, composition came relatively late in life. His first composition, 'Cinq haïkus pour piano', dates from November 2012. Almost from the start he nevertheless forged a very personal style of composition, characterised by strong formal coherence and an immediate, expressive impact – a style as far removed from atonal avant-garde as it is from some of the blander neo-tonal styles of composition. His first compositions were met with immediate public acclaim and numerous musicians expressed their interest in his music by commissioning pieces from him. The Concours international de piano de Fribourg, Jeune Musique, chose one of his compositions for one of the set pieces of its 2018 edition.
He founded the publishing company Editions Rochebrune, which has been publishing his works and recordings with exclusive rights since February 2018. On 18 February, it released his double album ,'A Silent Wood'.
In addition to his current position as dean of the piano section of the Fribourg Conservatory of Music, he has taught at the Haute Ecole de Musique de Lausanne, and given master classes and lectured in Switzerland, Spain, the United States, Canada and New Zealand.